The 360 photo editor is now released to Premium clients as well as users with beta access to thinglink.com.
We will continue rolling out some UI improvements, audio controls and support for the different mobile devices. Here is a breakdown of all features as well as more information of supported file sizes and formats for file uploads.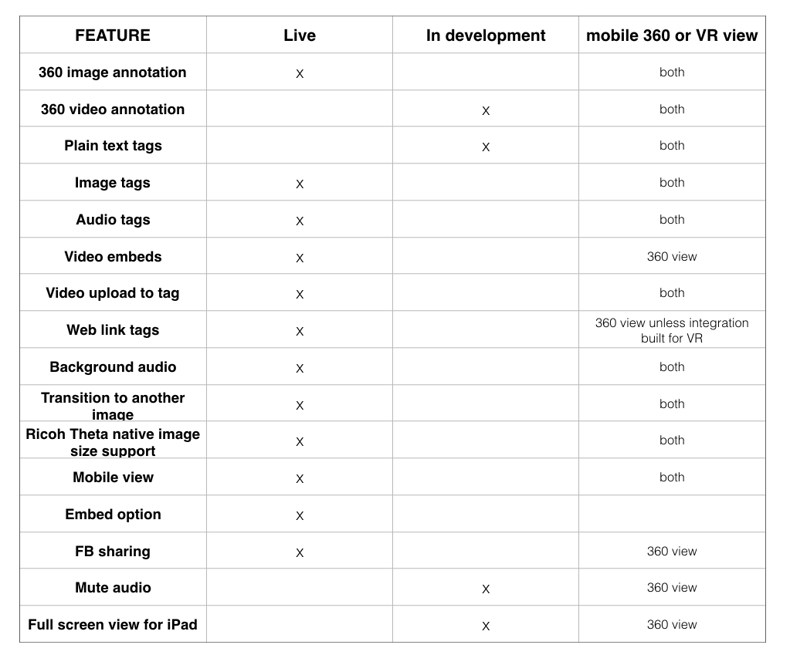 Full technical specifications:
360 Image upload

File type: JPEG
Image aspect ratio: 2:1
Max resolution: 4096x2048 (will increase to 5376 x 2688 to match Theta S)

Background audio file for the base image

File type for audo file: MP3

Tag types available:
File type for image: JPEG
File type for audo file: MP3
Text description: recommended amount of characters - 140 or less
Web link: use this formula within text desctiption to add a clickable web link:
File type for the video: MP4
Maximum size: 25 mb
Video codec: H264 video codec
Audio codec: AAC audio codec
Text description: recommended amount of characters - 140 or less
Recommended dimensions: 640 x 360 for optimized mobile playback
iFrame embed code. Please keep in mind the following limitation: depending on the type of embed you are using, it may or may not be compatible with VR version of the end content.
The most common example of an iFrame embed code is the YouTube video embed code which looks like this:
<iframe width="420" height="315" src="//www.youtube.com/embed/pChlenkNWos?rel=0" frameborder="0" allowfullscreen></iframe>
Enable auto-play:
You will notice that there is a "Play" button on your embedded 360 image.
You can autoplay all the images by adding "?autoplay=1" at the end of an image id, please see example below:
<iframe src="https://www.thinglink.com/mediacard/802578159638675457?autoplay=1" width="640" height="400" frameborder="0" allowfullscreen mozallowfullscreen webkitallowfullscreen></iframe>
Watch a demo of the new editor: