ThingLink user: Wilhelmsen (click to explore live page) -Wilhelmsen is a global maritime industry group, employing more than 21,000 people across 75 nations. The Wilhelmsen group operates the largest maritime network in the world, with over 2200 locations. As the Covid-19 pandemic sweeps the globe, industries around the world are facing a multitude of new problems daily. The first key problem Wilhelmsen faces is making a large mass of information easily accessible to their 21,000 employees on specific restrictions and updates to key global ports. The second problem is that this information is constantly evolving as countries implement new restrictions and reopening guidelines. This requires constant updating which needs to happen efficiently and without hassle. Finally, this information needs to be presented in a visually engaging format that allows viewers to access the most relevant information quickly. In order to solve these problems, Wilhelmsen turns to ThingLink and creates this Interactive COVID-19 Global Port Restrictions Map.
[COVID-19 Global Port Restrictions Map]: Click link to view live interactive map
Making massive information accessible in a single visual experience
As you see in the map above, there are over 50 ThingLink hotspots, each in their appropriate geographic location. Each hotspot includes information on a specific port and information such as, "Are there any restrictions on vessels whose previous port call was from COVID -19 high risk countries?". As you see in the clip below, we click on the United States and it unlocks all of the key information on U.S. ports. Maybe I operate a port in Fiji. I can instantly find Fiji on the map and learn the information needed to keep my port safe.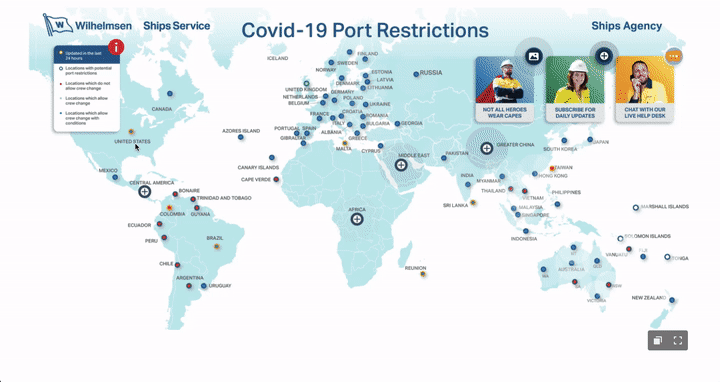 Wilhelmsen creates a legend that gives viewers a visual indication as to which countries have been updated in the last 24 hours (appearing as yellow icons), or locations which do not allow crew change (appearing as red icons). While ThingLink provides several hundred preloaded icons, you can also upload custom icons to achieve a certain design or visual cue to your audience. Or, maybe you want icons that match the brand colors of your organization. This further speeds up learning and processing information for Wilhelmsen employees.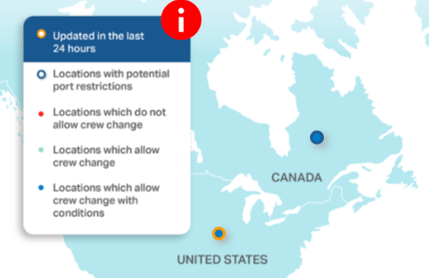 Clicking on the blue plus sign icons located in Central America, Africa, Middle East or China will take viewers into a zoomed in map view of these regions. This improves the end experience for viewers and prevents overcrowding of icons in regions with very consolidated countries. Viewers can navigate back to the original map by clicking the back button on the top left corner, or the related scenes view on the bottom right corner. Combining multiple pieces of interactive media into one experience is a key feature of ThingLink and allows for deeper visual communication. Here we have five ThingLinks combined into one global map.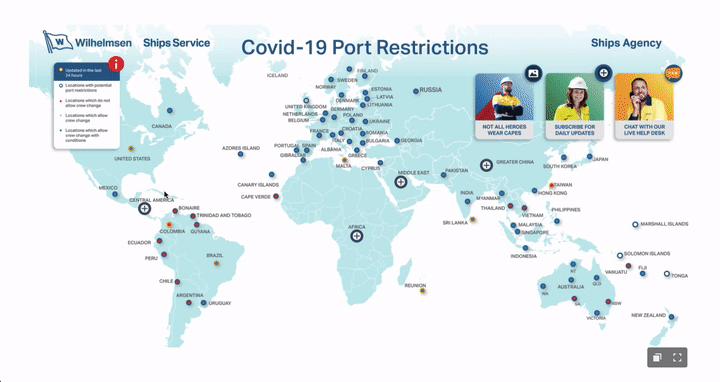 Creating, sharing and updating saves time for marketers and developers
Creating and sharing ThingLinks can be accomplished in minutes and requires no advanced computer skills. If you can make a Powerpoint, you can make a ThingLink. ThingLinks can be updated constantly and you don't have to re-embed one each time an update is made. This greatly speeds up the creation process and eliminates the need for marketers to have to involve developers to make updates, saving everyone time and resources. In this interactive map, each tag indicates when it was last updated, ensuring that learners are accessing the most up-to-date information and doing their part to prevent the spread of Covid-19. For example, USA was updated 24th June 2020 and India was updated 23rd June 2020.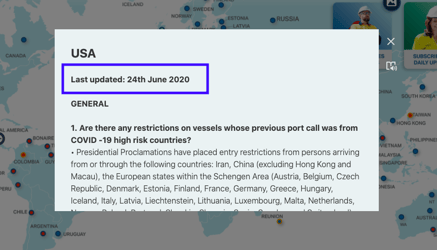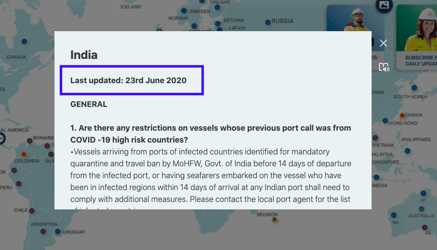 Community involvement, live updates and chat support
What sets this interactive map apart from most others is that they further engage their viewers with three unique tags at the top of the map.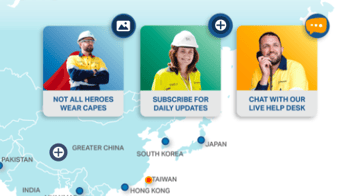 First, we see a slideshow appear when clicking "Not all heroes wear capes" which provides tribute and thanks to ALL ship agents around the world.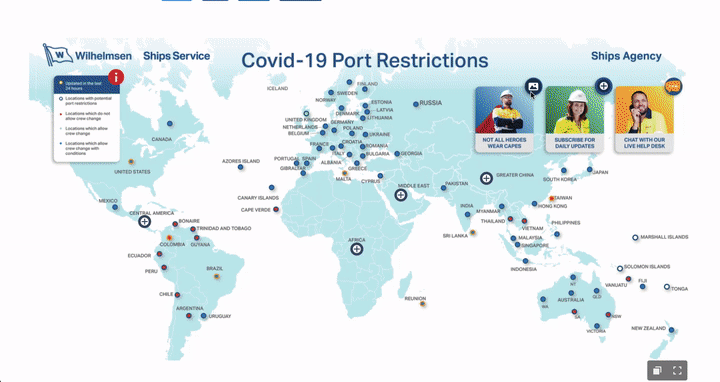 Second, the viewer is taken to a page that allows them to subscribe to #PortNews for daily updates on Coronavirus.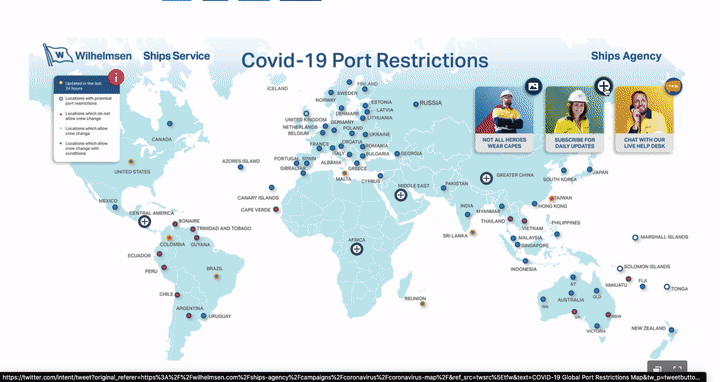 Finally, Wilhelmsen embeds a Zendesk live chat that connects anyone with a support specialist real time to answer questions. Talk about convenience! You can embed any media on the web into a ThingLink tag, including videos, slideshows, 3D models, Google Maps, polls, quizzes and more!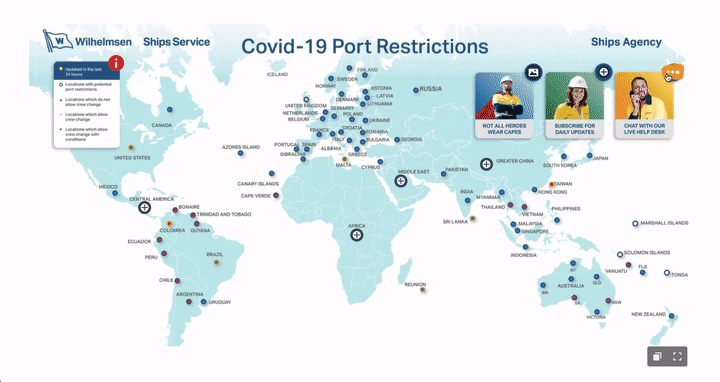 In conclusion, Wilhelmsen is effectively leveraging ThingLink to solve several new communication problems relating to Covid-19 and the impact it has had in the maritime industry. Variations of this use case can be used by any organization, school or government to solve problems they are facing in communication or marketing brought on by Covid-19.
Want to improve your marketing or eLearning content engagement with ThingLink?
Click to schedule a live screen share demo with me at a time of your choice to learn how to create interactive map content like Wilhelmsen

.

You can also email me directly, andrew@thinglink.com.
Don't have time for a live demo?
Watch this recorded demo that goes over project ideas, how to make a ThingLink, as well as account recommendations.