Our new distributor program offers resellers an easy way to create ThingLink accounts to customers. In this blog post you will learn how to create activation codes and instructions for clients to redeem the codes. If you have questions, or you want to become a ThingLink Distributor, please email our team at sales@thinglink.com. Once you are approved, we will schedule a demo to go over best practices and project ideas for clients.
How to create ThingLink account activation codes
Step 1: Navigate to the Distributor profile
Once you have been granted a Distributor role from ThingLink, login to your account and navigate to Account Settings. On the left menu you will see a Distributors tab.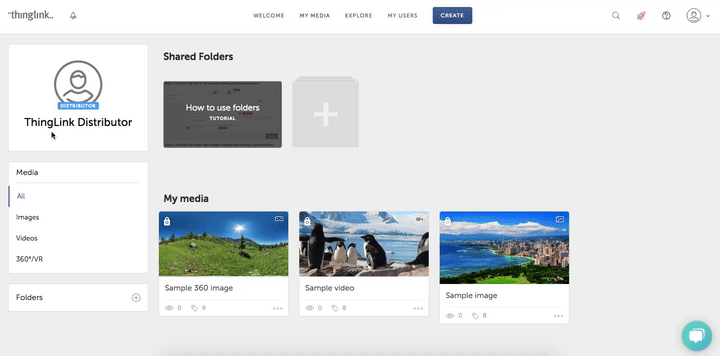 Step 2: Select and order your codes
Here you can create new codes for your clients. You can create as many codes as you wish and they will be emailed to you at the address you have set up on the account. Each code is valid for 12 months from issuance and at the beginning of each month you will automatically receive a bill with any codes that have been redeemed. Your partner discount is applied to the invoice and payment can then be made via credit card or direct transfer within 30 days.
Note: these are one-year plans and do not automatically renew. If your client wants to use ThingLink next year, you will need to generate a new code.
Step 3: Sharing codes with clients
Once you receive the email you can share codes with your clients. It is up to each distributor to ensure proper code management and remember that each code can only be redeemed once.
Instructions you can use to send clients:
First, sign up for a free account at www.thinglink.com homepage. Once you login, navigate to the billing tab of your Account Settings. Here you will see a prompt in the top right corner "I have an upgrade code". Finally, enter the code here and it will automatically upgrade your profile for one year.

Have questions or want to become a ThingLink Distributor?
Please email our team, sales@thinglink.com and we will get you set up and schedule a demo to go over best practices and project ideas for clients.