Featured image: An interactive map combining stats, quotes, and images to describe the refugee situation in the Lake Chad region.
Creator: Doctors Without Borders
Description: An interactive map of the Lake Chad area describes a complex situation in a visual and engaging way. The map itself gives geographic context to a collection of information and images from the surrounding areas. In addition it offers the reader a chance to switch between an overall bird-eye view of the region and an individual testimonial from a refugee camp.
Special mention: The map does a great job using themed icons to indicate different types of content. For example, a speech bubble brings up a quatation, and a camp icon summarizes facts of a refugee camp in the region.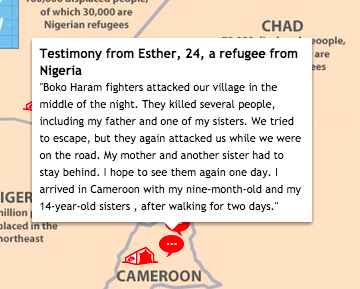 ---
The next featured image/video of the week will be chosen on Friday. Have a great example? Send your suggestion to social@thinglink.com.
Want to learn how to create an infographic like Doctors Without Borders? Schedule a demo with one of our experts!