ThingLink user: FashionUnited (click to explore live)
Description: This interactive tour from FashionUnited consists of six 360° photos, which enables readers to pay a virtual visit. Clicking on the arrow hotspots will take readers on a journey from the entrance into all the spaces. Each photo contains interactive elements, including pictures, videos or audio. Click on the buttons to unlock the content.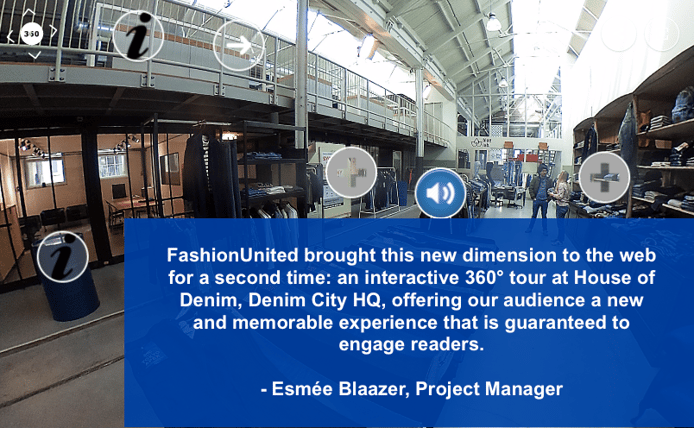 Pro Tip: Use audio within tags to give your audience an extra layer of immersion. Audio is the perfect substitute for text when consuming 360° photos, especially in virtual reality headsets.
Interactive 360°/VR tour:
---

Want to learn more?
Click to schedule a 20min screen share demo with me at a time of your choice to learn how to create an interactive 360/VR tour like FashionUnited. Or, email me directly
andrew@thinglink.com
.
Want to start try 360°?
If you are ready to begin creating interactive 360/VR images for your brand or client, click the blue button to purchase ThingLink Premium.