Creator: Viva Paper Towels (click to explore live)
Description: When visiting Viva Paper Towel's homepage you will find a call-to-action to "unleash clean", their brand slogan. Viva uses ThingLink to depict this slogan through visual imagery with an interactive carousel of cleaning tips in the kitchen, bathroom and patio. Viva customers are able to read tips on how to get streakless glass, watch a YouTube on the power of soft strength, learn how to clean a grill with Viva Vantage, and much more all within the engaging experience of the carousel.
Special mention: Customization features are used brilliantly in these scenes. Viva uses purple and white themed tags, icons and graphics throughout the page to match the visual style of their brand.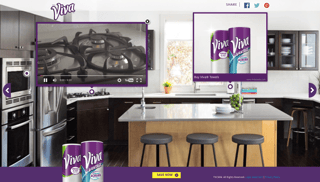 ___
The next featured image/video of the week will be chosen on Friday. Have a great example? Send your suggestion to social@thinglink.com.
Want to learn how to create an interactive website like Viva Paper Towels? Schedule a demo with one of our experts!