Creator: Dallas Morning News (click to explore live)
Description: Year in review articles are very popular during the New Years season and Dallas Morning News uses ThingLink to make their yearly review interactive. Below you will see that each main topic is depicted as a custom illustrated graphic. That graphic is then layered with quotes that rang the most true in 2015. This year's popular topics range from the political realm of Donald Trump, gay rights, and gun regulation to the social talking points of Jon Stewart, police violence, and Jordan Spieth. Hover over the graphic below and learn more about the topics that most intest you.
Special mention: This is a perfect example of using hidden icons to add interactivity to an inforgraphic. Read this article to learn how to make an interactive infographic with hidden icons.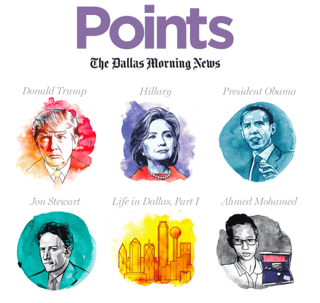 ___
The next featured image/video of the week will be chosen on Friday. Have a great example? Send your suggestion to social@thinglink.com.
Want to learn how to create an interactive year in review like Dallas Morning News? Schedule a demo with one of our experts!