This new feature gives Premium business users the ability to invite colleagues to view and create ThingLink content for easy team collaboration. Each admin user will have the ability to invite and manage users through the new "My Users" tab appearing on the top bar navigation. Anyone who is invited and accepts the invite will be able to create and post to shared folders that can be viewed by the entire team. Continue reading and click the green icons in the interactive images to learn how to use this new feature. If you have any questions or feedback about this new feature, feel free to email support@thinglink.com.
Step 1: Visit interface settings > select 'Use New Media and Folders interface' to activate the new feature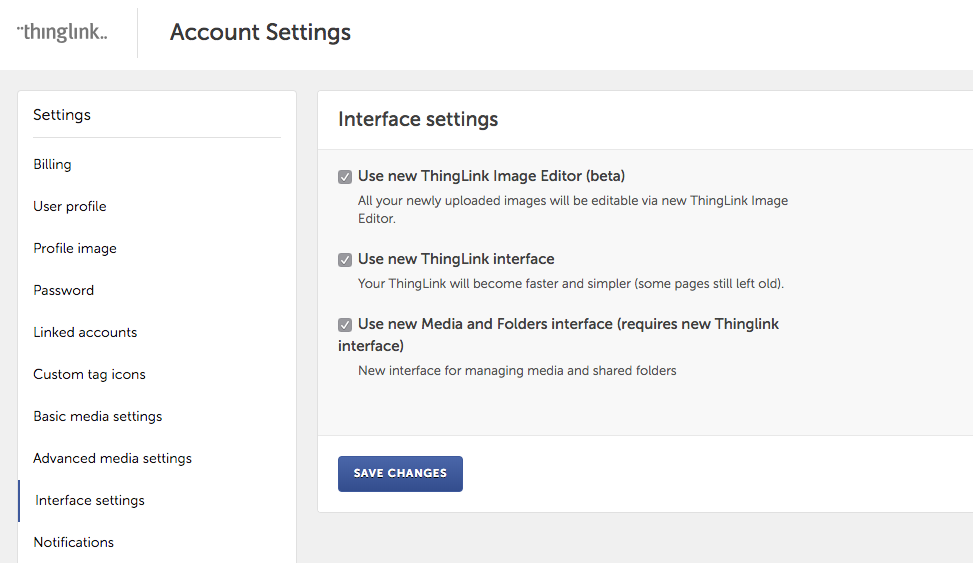 Step 2: Click the 'My Users' tab to begin inviting and managing users
Step 3: Click the 'My Media' tab to begin creating and posting to shared folders
Want to use ThingLink with your colleagues?
Click to schedule a live screen share demo with me at a time of your choice to learn how to create interactive content and get your team started on a ThingLink account. Or, email me directly andrew@thinglink.com.
Don't have time for a live demo?
Watch this 13 min. recorded demo that goes over project ideas, how to make a ThingLink, as well as account recommendations.